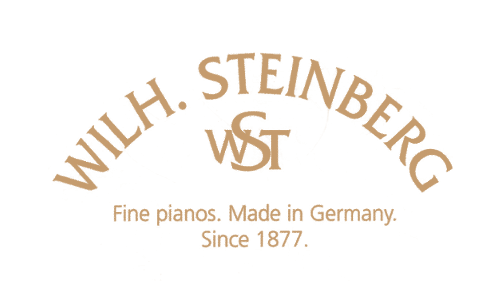 Wilh Steinberg are a German piano maker with over 135 years of piano making heritage. Recent investment in the company has enabled them to develop and expand their range of pianos to produce high quality instruments at competitive prices with strong focus on elegant designs, solid build quality and musical tonality.
We are delighted to part of the recent success of Wilh. Steinberg which has seen a dramatic increase in sales for the company. The pianos have been very successful in our showroom with an impressive musical personality to consider against our other pianos.
Wilh. Steinberg P Series
The upright and grand pianos of the Performance series are based on the German WILH.STEINBERG design, crafting techniques and technologies and manufactured under authorisation by the Yichang Jinboa Musical Instrument manufacturing co. ltd, China.
Every performance series piano is delivered to the German factory where it is held in storage. Following an appropriate settling period each piano is tuned, regulated and voiced by the German master technicians in the WILH.STEINBERG factory.
I can wholeheartedly recommend playing the Performance series Steinberg pianos and comparing them against other similarly priced instruments. The construction and build quality is impressive, the tonal colours exceptional and the action beautifully weighted. The German design, materials and preparation are very evident when playing these fine pianos. – Ben Wheeler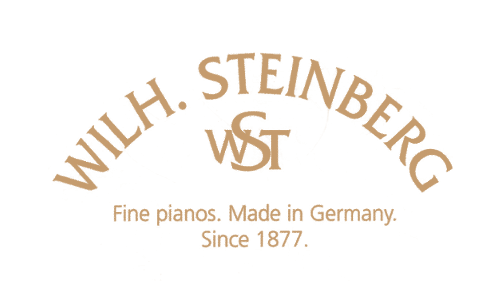 Did you know?
Wilh. Steinberg pianos feature top quality German hammer felt from Renner. Renner select the best wool from the happiest sheep to ensure the finest quality wool. Every hammer is voiced by the experienced German technicians at the Eisneberg factory In Germany to ensure the best tonal performance.
Wilh. Steinberg S Series
The Signature series of Wilh. Steinberg pianos are designed and handcrafted in their factory in Eisenberg, Germany. The Signature series was developed and introduced in 2015 following design improvements and optimisations. The finest materials are used by skilled craftsmen to produce instruments with an exhilarating sound quality and intense tonal properties.
Wilh. Steinberg S-Series are fine quality hand crafted German pianos. Each piano is musically expressive with the tone balanced beautifully throughout the key board. As with all Signature Series pianos the action has an assured feel synonymous with the skilled set up of a Kluge keyboard and German Renner action. A very impressive piano with true individual character. – Ben Wheeler
Wilh. Steinberg S-188
RRP £28,590 In Showroom
This is a truly remarkable German piano at a very competitive price. The tonal performance is strong and individual, full of character and musicality. I am extremely impressed with this piano and would encourage anyone considering a grand piano to visit and put it through its paces. – Ben Wheeler